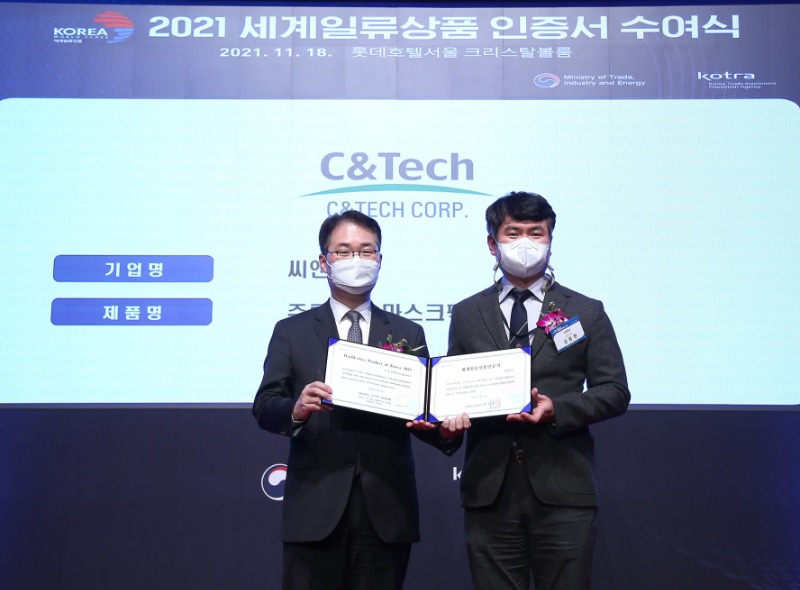 The MG:gel mask, developed by our company and sold worldwide, is the only cosmetic product to be selected as
the Next-generation World-class Product of Korea 2021. The World-class Product of Korea selection system, which
marks its 20th anniversary this year, is an award hosted by the Ministry of Trade, Industry & Energy and the Korea
Trade-Investment Promotion Agency(KOTRA). Among them, the Next generation World-class Products of Korea is a
certification awarded only to items expected to occupy within the top 5 or more 5% of the world market share
within the next seven years, and was selected after strict screening standards and meticulous deliberation by experts
in related fields.
"MG:gel", a wrinkle-improving facial mask, is a skin-friendly mask made of gel by coating and drying with a new
method different from the existing ones using botanical polymer polysaccharides as the main raw material. MG:gel's
unique patented technology is to form a three-dimensional network-structured film in a gel to pass air and trap
moisture to maintain intensive hydration in the skin for a long time, and to help improve skin elasticity with the lifting
effect of the gel over time after applying.
Meanwhile, MG:gel has already achieved exports of about $1.62 million in the previous year, and plans to grow into
a representative product of K-Beauty through promotion of product excellence and active marketing with this selection
of World-class Products of Korea. We also has an ambitious plan to change the landscape of the next-generation
facial mask market by deepening MG:gel technology and releasing additional new products for various purposes through
our R&D Center.